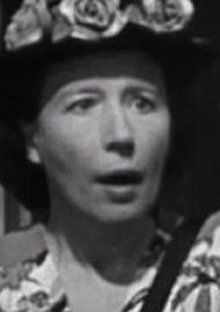 Grace Arnold was born 19th September 1894 in London; she died 26th February 1979.

She had a very productive film and TV career spanning 5 decades from her first film appearance in 1939's Men Without Honour which starred Ian Fleming through to her final TV appearance in a 1975 episode of Angels.

She mainly appeared in un-credited roles in her first few years but she made her name due to her appearances in British classic films such as Went the Day Well 1942, The Way Ahead 1944, Hue and Cry 1947, Jassy 1947, The History of Mr Polly 1949, Brandy for the Parson 1952, Those People Next Door 1953 and Child in the House 1956 which starred Phyllis Calvert and Eric Portman.

She is pictured here in her un-credited role as the 'Woman on the Tube train' in 1949's Passport To Pimlico.

Her TV acting career included appearances in: The Grove Family, The Cheaters, Emergency Ward 10, The Prisoner and as Mrs Hudson in 1968's Sherlock Holmes.